Regular price
Sale price
$85.00 USD
Unit price
per
Sale
Sold out
Empower the birthing experience with aromatherapy.
The use of specific essential oils in childbirth can strengthen and deepen contractions, ease pain and promote a calm atmosphere in which to greet the new baby.
Doula Kit Includes:
1st stage labour blend 200ml
Motherhood Pillow Mist 100ml
Frankincense essential oil 12ml
Motherhood essential oil blend 12ml
Why have we chosen these oils?
Labour and birthing oil is used by doulas, birthing centres and midwives for a natural birth or to help bring on labour. This labour and birthing blend can reduce pain and anxiety, and helps mother to relax in between contractions. Massage into abdomen, lower back and ankles during early stages of labour. This blend can also be used to relieve post-natal depression.
Motherhood essential oil blend helps to create a peaceful and nurturing atmosphere for mother and baby, and enhances calming and loving emotions. Containing oils of Tangerine,  is a quick way to lift a woman's empowerment during labour. Lavender calms both the person and the body, helps alleviate nausea and muscle aches, aids sleep, and is an analgesic. German chamomile is soothing and healing whilst being relaxing and calming
Motherhood Mist has hydrating and healing properties, perfect to refresh during labour     
Frankincense is to assist with deepening breathing and can be inhaled directly from the bottle
View full details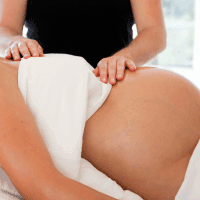 Everything in the pack perfect - High Quality
I totally recommend all of these products for all Birth and Post Natal Doulas to use.
I pass this oil around my classroom in my training and absolutely everyone adores it.
It's probably the best I have ever used.
Totally inspiring, uplifting and all woman.
My orders are always delivered promptly - great service - more than happy to endorse!
More about our mums, bubs & birth products
Made with 100% natural ingredients, pure essential oils, organic cocoa butters and plant extracts to help care for you and your baby naturally. Our range includes products to calm unsettled babies, relieve colic, cleanse, moisturise and soothe baby's skin and help promote sleep, as well as products to help alleviate stretch marks, stress, morning sickness and varicose veins. No sulphates, chemicals or parabens.
Secret Scent's recommended partners
Secret Scent works with and recommends both Leah Palmer-O'Malley from Bellys & Bubs in Toowoomba and Julie Clarke from Sylvania in Sydney's South.