Regular price
Sale price
$52.00 USD
Unit price
per
Sale
Sold out
Purifies and releases negative emotions and vibrations, whilst regenerating positive chi (energy). Cleanses the aura and chakras.
Perfect for healers and therapist to cleanse space in a room in between clients. The use of essential oils are used to create good Feng Shui, to clear the previous occupants' energy so you don't take on their illness, divorce or bankruptcy. Also comes in a roll on balm.
Ingredients: Pure essential oils of rosemary, sage, lemon myrtle and juniper. Room refresher is infused in floral water. 
Includes:
12ml Essential Oil Blend
500ml Room Refresher Spray
View full details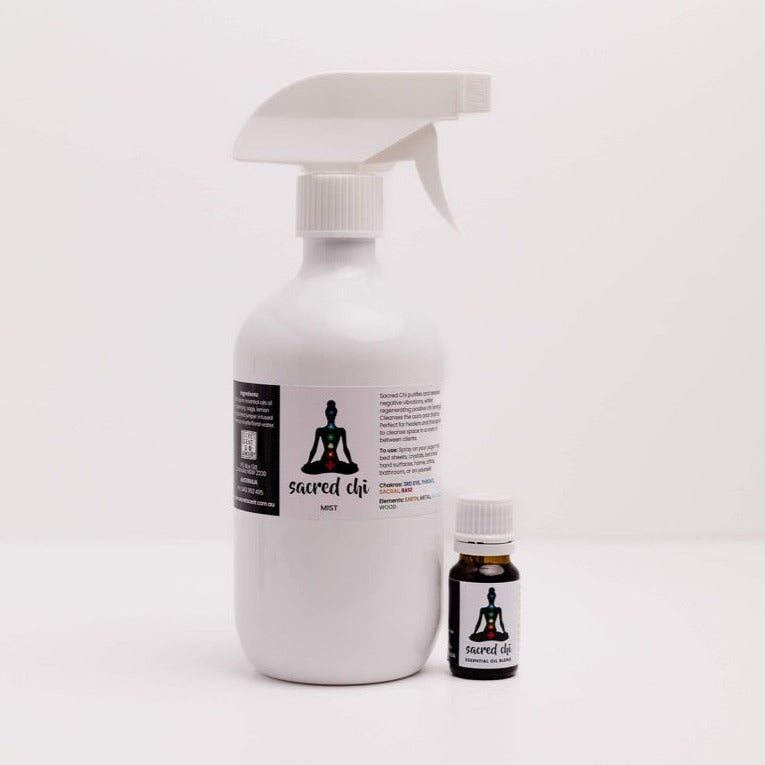 Sacred chi
Love this product. I use the spray to refresh treatment rooms in an Allied Health clinic as the oil on the patient. I find it very clearing and uplifting crating a great space for healing.
The perfect WFH air purifier
What better way to start the day from home to clear the air and wake up the senses - love this product
Love this product..... It works !
Thanks Sharen
Q? Have you changed the EO formula/ratio. Top notes smell different.
How to use essential oils
Bath

Add 6 drops to a full bath with disperser or milk and agitate

Shower

Add 4 drops to corner of shower and inhale aroma

Tissue

Add 3 drops to tissue at night or to carry with you

Burner / Diffuser

Add 6 to 8 drops to water

Massage Oil

Add 5 drops to 10mls of base oil

Hand and Body

Add 5 drops to 10mls of base cream
More about essential oils
Before chemicals, oils obtained from pure plant extracts (known as essential oils) were used to help improve the quality of life on a physical, emotional and spiritual level. Since then, essential oils have been found to heal skin, strengthen immunity and influence moods and feelings, assisting mental conditions such as stress and anxiety. Essential oils have the healing ability to work both therapeutically and medicinally.

All Secret Scent products are 100% natural, and do not contain sulphates, chemicals or parabens.